Opening & Dedication of An Teach Solais: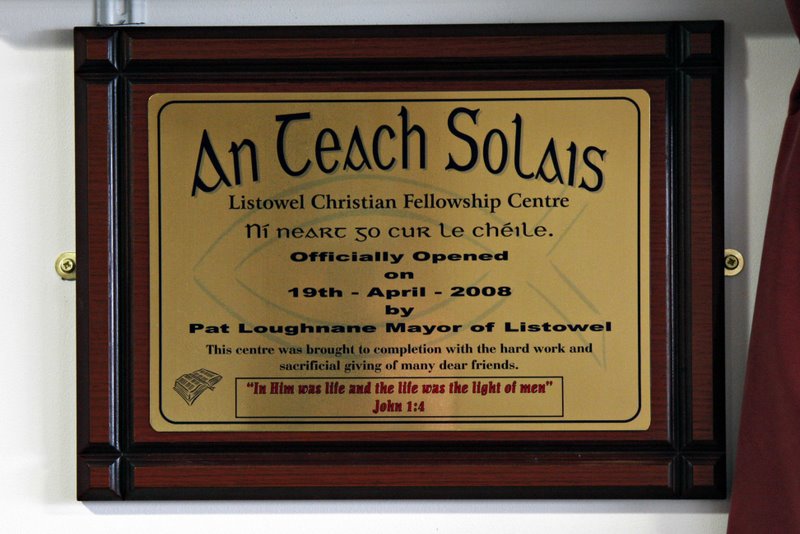 In 2002 we purchased a site on the Ballybunion road with a view to developing a purpose built center for all of our activities, including meetings and children's work. Finally after 4 years' hard work we achieved our goal which was achieved almost entirely by  voluntary giving of time and resources from Christians locally and from around the world. It has been exciting working side by side with Christians from all walks of life. One enduring memory was helping a pediatric surgeon cut slates on the roof in gale force winds.
The building, named An Teach Solais, was opened and dedicated in a cermony officiated by the Mayor of Listowel, Councillor Pat Loughnane, on April 19th, 2008.
The Mayor gave an official welcome to the community of Listowel Christian Fellowship and requested that the first prayer be for the creation of new jobs for the people of Listowel. The MC for the day Mr Stephen Cardy, a member of the Leadership Team of An Teach Solais, took the opportunity to do that and prayed for the prosperity of Listowel and its surronding areas both spiritually and physically.
There was also an address by much loved and respected local businessman, Mr Danny Hannon, who moved his audience to laughter and tears in his enjoyable oration. He gave a warm blessing to the new place of prayer and worship.
Pastor JP Walsh from Lixnaw thanked all those who had helped to make the new centre a reality and emphasized the Motto on the specially inscibed Plaque
Ní Neart go cur le cheile
There is no strength without unity
Approximately 300 people attended the event, which climaxed with refreshments and a concert by the Fellowship Music Group.